Minimally invasive medical video
scroll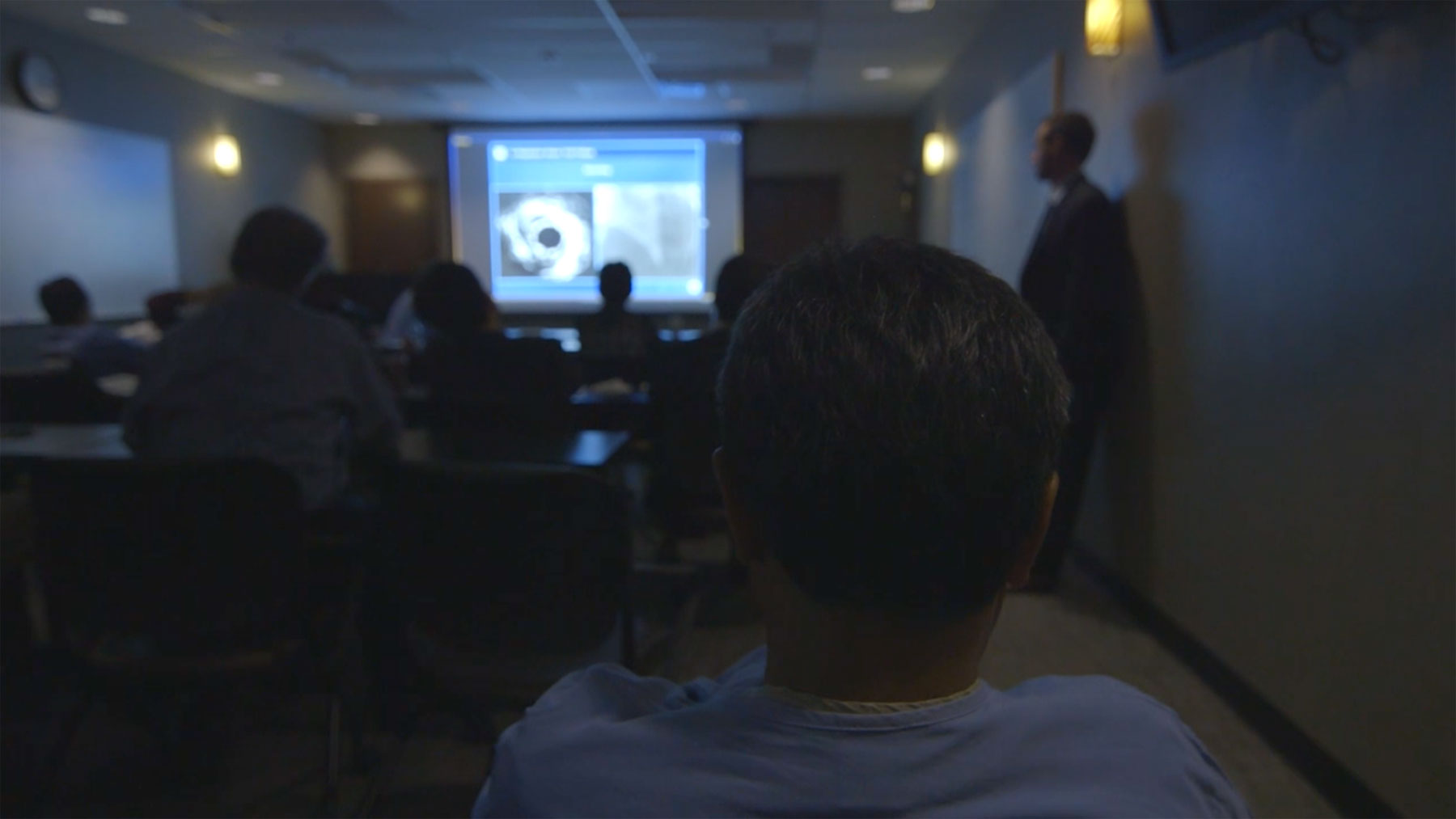 On-site presentations
The operating theater is a fantastic place for hands-on learning and individual proctoring, but when you need to teach large groups you need another solution that allows the audience access. We can bring the experience of being in the operating room to a classroom or conference center at your facility. Our expertise with diagnostic interfacing and robotic camera systems provides viewers with nearly the same experience as standing across form the operator, without the hazards of radiation or crowding the operating space. We can transmit our A/V signals across existing hospital networks, eliminating the need for specialized wiring installations. We are able to integrate with existing A/V presentation hardware or provide turn-key solutions as needed.
More +
HD Teleconferencing
Teleconferencing has long been an economical way of bringing groups together across great distances. We can provide hardware or software-based solutions to provide near real-time teleconferencing between groups and individuals. We are able to combine the expertise of capturing the video content as well as the management of the entire transmission and receive process across multiple sites, simultaneously.
More +

HD Webcasting
Travel logistics can make it difficult to bring everyone to an event. Webcasting is a stable, economical way to transmit HD video to a remote audience. Our team has produced many webcasts from hospitals across North America, Europe. Our custom interface allows viewers to watch a private webcast and collaborate with one another and the on-site audience via live chat technology throughout the broadcast. This technology allows Q&A as well as input from experts not able to attend the live meeting.
More +
Satellite Broadcasts
When the highest quality video and zero-delay communication are needed, satellite transmission is often the only viable option. Our team has provided transmission services to medical conferences around the globe. We understand the nuance of coordinating transmission and reception sites and are adept at managing site integration at any medical facility.
More +

Relationship Management
Any event requires diverse groups to cooperate and collaborate. Hospital management, clinical staff, and IT teams are often in conflict when resources and timelines are tight. Our skill at speaking everyone's language and managing needs and expectations has contributed to the ultimate success of events that would have otherwise been failures. We believe that medical experts should be free to practice medicine and not have to manage event logistics.
More +
Our clients have included:
Bridgepoint Medical
– Minneapolis, MN –
Boston Scientific
– Marlborough, MA –
Peacehealth
– Vancouver, WA –
Piedmont Hospital
– Atlanta, GA –
St. Michael's Hospital
– Toronto, ON –
CTO Fundamentals
– United States –
Millbrook Medical Conferences
– United Kingdom –
Biosensors International
– International –
Scottsdale Interventional Forum
– Scottsdale, AZ –
Banner Health
– Phoenix, AZ –
Abbott Vascular
– Santa Clara, CA –
University of Washington Medical Center
– Seattle, WA –
CRF - Cardiovascular Research Foundation
– New York, NY –
Edwards Life Sciences
– Irvine, CA –
CIT - CHina Inteventional Therapeutics
– Beijing, China –
NYU - New York University
– New York, NY –
More +
Places we've worked
Peacehealth St. Joseph Medical Center
– Bellingham, WA –
Peacehealth Sacred Heart Medical Center
– Eugene, OR –
Piedmont Hospital
– Atlanta, GA –
Torrance Memorial Medical Center
– Torrance, CA –
Memorial Medical Center
– Springfield, IL –
St. John's Medical Center
– Springfield, IL –
St. Luke's Hospital
– Kansas City, MO –
Presbyterian Hospital
– Albuquerque, NM –
York Wellspan Hospital
– York, PA –
Medical City
– Dallas, TX –
Banner Good Samaritan Hospital
– Phoenix, AZ –
Abbott Northwestern Hospital
– Minneapolis, MN –
St. Michael's Hospital
– Toronto, ON –
Belfast City Hospital
– Belfast, UK –
Royal Infirmary of Edinburgh
– Edinburgh, UK –
Kings College Hospital
– London, UK –
ROYaL INFIRMARY OF Belfast
– Belfast, UK –
University of Washington Medical Center
– Seattle, WA –
NYU - New York University
– New York, NY –
Henry Ford Medical Center
– Detroit, MI –
More +

401 Harris Street
Suite 310
Bellingham, WA 98225
(360) 671-8708